Episodes: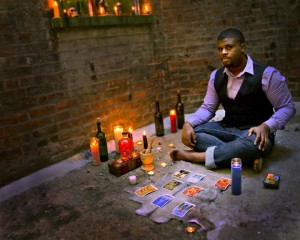 Khi is a gifted and trained spiritual counselor and ritualist. He experienced psychic and supernatural phenomena from an early age, which led him on a journey to study the world's spiritual traditions and the energetic relationships between humans, plants, and other animal species. He holds a degree in Ritual Anthropology and studied animism and ritual at the graduate level.
A modern alchemist, Khi combines intuitive communication with the lifeforce in herbs, roots, stones, and bones with a thorough knowledge of their applicability in a variety of world magical practices (including hoodoo rootwork and Latin American curanderismo) toward helping his international clientele manifest both short- and long-term goals and intentions. Khi's alliances with helping spirits and his ability to channel and enlist Ancestral Helping Spirits lends his work tremendous efficacy and authenticity, drawing upon our most ancient wellness modalities as they regain worldwide recognition for their beauty, efficacy, and necessity.
Khi teaches workshops and presents at conferences across the United States. He performs time-honored and innovative rites that lead people into greater joy, purpose, and prosperity. Khi is a member of the Association of Independent Readers & Rootworkers (AIRR), a gathering of professional practitioners of African American folk magic who provide psychic reading and spiritual root doctoring services to the public.