Episodes: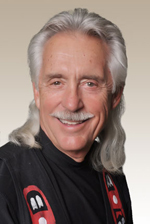 Renowned author and leading-edge thinker Dr. Will Taegel grew up on the Llano Estacado in Texas where he began his lifelong and intimate relationship with Nature.  Choosing an integrative approach early in his career, Dr. Taegel received his formal education at Emory University gaining a Masters degree; and at the University of California Berkeley where he earned a Doctorate from San Francisco Theological Seminary.  Concurrent with his formal education he explored his Native American heritage and received traditional training in the ways of the Shaman.
Always fascinated and happily challenged by human psychology and one's relationship to the self and others, Dr. Taegel conducted a successful psychotherapy practice for 35 years, which evolved into his current role as a sought-after Eco-Spiritual Mentor.  He has written eight books weaving together nature, spirituality, psychology, and relationship, and is Vice President of Community Leadership for Wisdom University.
Dr. Taegel and his spouse, Judith Yost founded a three decades old eco-spiritual community in the Texas Hill Country called Earthtribe. His newly published book is entitled The Sacred Council of Your WILD HEART: Nature's Hope in Earth's Crisis, and is currently available in paperback and Kindle at Amazon.com and on Earthtribe.com.