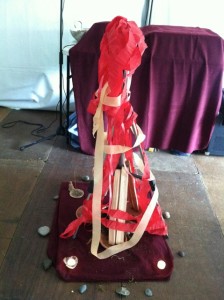 When we focus on the element of fire we are focusing on the quality of the relationship we have with our own spirit. As a transformational force, fire is the healer who is showing us how to engage in the art of release and sacrifice. The fire helps us to free our hearts to love what truly matters to us and free our lives from the patterns of thinking, speaking, and acting that drain our hearts of their natural fullness for all life. Join host and shaman, Christina Pratt, for the new series, Working with the Elements. This week she explores how we can work with the element of Fire to kill our false passions that lead to the arrogance, aggression, and ambition that sickens our world. There is big medicine to be found in the Fire; it brings the blessing of freed energy so that you can feel and follow the true passion of your soul's longing.
Listen to the show (just click the Play arrow):
Audio clip: Adobe Flash Player (version 9 or above) is required to play this audio clip. Download the latest version here. You also need to have JavaScript enabled in your browser.
or download (right-click the link) the Freedom From False Passions—Working with Fire .mp3 audio file.
About Christina Pratt…
Shamanic teacher and author, Christina is a skilled shamanic healer who weaves her authentic shamanic experience, extensive training, and experience with shamans from Ecuador, Nepal, Tibet, and Africa into her contemporary practice. She has been in practice for 20 years, specializing in soul retrieval healings, soul part integration, and ancestral healing. She is the director of the Last Mask Center for Shamanic Healing in Portland, Oregon.
Comments Off on Freedom From False Passions—Working with Fire Original post date: Friday, July 25th, 2014